The invention of the jet engine revolutionized air travel.
Not only could jet airplanes travel much faster than planes with piston engines, they could also climb faster and fly higher.
However, there were also two disadvantages.
Jet engines had high operating temperatures and consumed great amounts of fuel.
Related Article – 5 Best Low Time Pilot Jobs With 250 Hours
After World War II, when international travel reached new highs, both the U.S. Air Force and civil aircraft builders were attracted by the capabilities of jet engines.
The commercial aviation sector, however, had major concerns about using jet engine technology.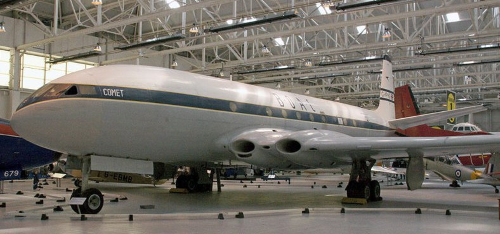 Airline executives realized that planes would need expensive metal alloy components to withstand the high operating temperatures, which, in turn, would affect an aircraft's longevity and reliability.
Jet airplanes had an initially low takeoff speed, which required longer runways than those used by propeller-driven planes.
That meant that, overall, jet airplanes were expensive to operate, so passenger airlines initially adopted a "wait-and-see" attitude before committing to the use of jet airliners.
It was the British Overseas Aircraft Corporation (BOAC), the national British carrier, that first began operating a commercial jet airliner.
On July 27, 1949, the 36-sear Comet 1, built by British aviation manufacturer De Havilland, made its debut. BOAC offered the world's first commercial jet service three years later, on May 2, 1952.
Passengers could fly from London, England, to Johannesburg, South Africa, with stops in Rome (Italy), Beirut (Lebanon), Khartoum (Sudan), Entebbe (Kenya), and Livingstone (Zimbabwe).
Related Article – Instrument Proficiency Check (IPC): 4 Things You Need To Know
While the top cruising speed of traditional piston-engine airplanes was approximately 180 miles, or 290 kilometers, per hour, the new jet planes could travel at 480 miles, or 772 kilometers, per hour.
Aside from much shorter travel times, jet airplanes were also vibration-free and relatively quiet, adding to the overall comfort of air travel—all important factors when traveling long distances.
Unfortunately, the Comet experienced a number of tragic accidents. Engineers discovered that the plane suffered from metal fatigue, especially around rivet holes.
The repeated pressurizing and depressurizing of the aircraft weakened the structure of the plane, and within two years, the BOAC suspended jet flights.
But by now, American aircraft manufacturers had overcome their initial reluctance to jet engines and had begun to build their own jet airliners.
The U.S. government considered Pan American Airlines its "chosen instrument" to represent the American commercial air fleet abroad.
The airline was undoubtedly a pioneer in jet aviation.
Pan American's legendary Chief Executive Officer Juan Trippe had a keen interest in establishing a passenger jet service that could fly nonstop across the North Atlantic.
When Trippe saw the British Comet fade, he played off two American manufacturers against each other.
Both Boeing and Douglas vied for Pan American's business, with one offering the Boeing 707 and the other the DC-8 to fulfill the airline's needs.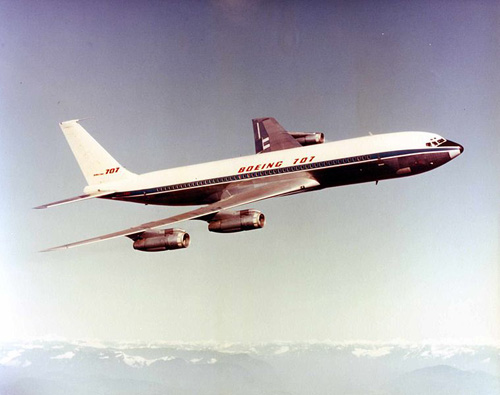 In October 1955, Trippe signed contracts with both Boeing and Douglas, ordering twenty 707s and twenty-five DC-8s.
In 1957, Boeing rolled out the first operational 707, the Boing 707-120.
Related Article – Airline Transport Pilot Certificate (ATP): 4 Things You Need To Know
On October 26, 1958, Pan American offered for the first time a flight from New York City to London, with only one stopover in Newfoundland.
Amid much fanfare, 111 passengers made the trip. It was the largest number of passengers ever on a single, regularly scheduled flight.
Coach fares were $272, which was approximately the same price as for a piston-engine flight across the Atlantic.
Initially, BOAC competed hard with Pan American. In fact, BOAC had inaugurated its own transatlantic service three weeks before Pan American.
The improved De Havilland Comet 4 performed much better than the original Comet 1.
But while BOAC's success was impressive, it was nothing compared to Pan American's.
Under Trippe's guidance, Pan American Airlines experienced almost unchallenged success in international air travel.
The airline quickly realized the importance of non-stop flights, and so it negotiated with Boeing to develop a new version of the 707 that could fly for an even longer distance before having to refuel.
The Boeing 707-320 allowed Pan American to introduce non-stop flights between New York and London on August 26, 1959.
Thus, the airline's demands played a leading role in the designing and manufacturing of jet airplanes.
Within a year, eleven other airlines had placed orders for the 707-320.
Domestically, National Airlines was the first to offer jet service, using leased Boeing 707s for its service, which began on December 10, 1958.
American Airlines offered its first domestic jet service on January 25, 1959, using its own aircraft for a flight from New York to Los Angeles.
American's two biggest competitors, Trans World Airlines (TWA) and United Airlines, were caught off-guard by the new coast-to-coast service.
Neither had anticipated the use of jet airplanes for domestic service.
TWA was able to quickly catch up, using a single Boeing 707 for its own coast-to-coast flights only two months after American's first flight.
United Airlines and Delta began flying Douglas' DC-8 passenger jets in September 1959.
Both airlines were willing to enter the domestic jet market late in return for Douglas' unmatched experience in building the world's best passenger airplanes.
Related Article – 12 Runway Markings and Signs Explained By An Actual Pilot
Airlines worldwide adopted the use of jet airlines with astonishing speed, partly because of Pan American's success.
Piston-engine airplanes were replaced by jet airliners at an unprecedented pace.
The Soviet national airline Aeroflot offered the world's first regularly scheduled and sustained passenger jet service with its Tupolev Tu-104 aircraft.
In September 1956, Aeroflot opened service from Moscow to Irkutsk, in the Soviet far east.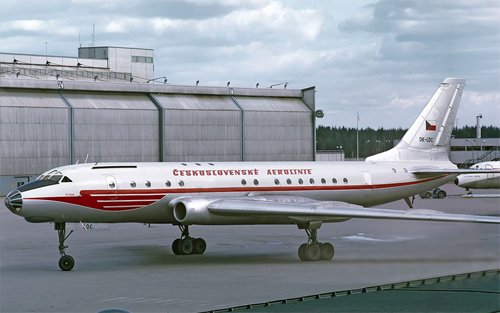 By 1961, only three years after Pan American's first jet flights, jet airplanes were routinely flying routes across the North and South Atlantic and Pacific, in the domestic United States, Europe, and East Asia; North-to-South America routes; Europe-to-Africa routes; and Europe-to-Australia routes.
Airlines such as Germany's Lufthansa, the Netherlands' KLM, Spain's Iberia, Australia's QUANTAS, Belgium's SABENA, Scandinavia's SAS, Israel's El Al, Japan's JAL, as well as Air France, Air India, and Swissair, were all using the Boeing 707, the DC-8, or General Dynamics' Convair CV-880 on their major international routes.
A number of airlines could boast to be the first to offer regular service on a particular international route.
However, it was Pan American Airways that set the standard for service in the new jet era.
Its pioneering partnership with Boeing; its ambitious routes, which included a round-the-world jet service inaugurated in October 1959; its flashy advertising campaigns; and its reputation for good service made the company a trendsetter among airlines worldwide.
Jet travel revolutionized air travel throughout the world.
Related Article – 14 Taxiway Markings, Signs, and Lights Explained By An Actual Pilot
The jet engine forced airlines to establish higher standards of maintenance, which required better facilities on the ground and more highly trained employees.
For passengers, the advent of the jet airplane meant more comfort, less noise, and—most importantly—shorter travel times.
Just like the piston engine before it, the jet engine was a new technology that made the world an ever smaller place.
See Also: 
Visual Approach Slope Indicator (VASI) Explained
Turbojet vs. Turbofan Explained
Choosing A Flight School Near You