I have been meaning to get around to posting a full review of my experience attending ATP Flight School for a long time, but have been sidetracked for one reason or another.
Now that I work from home, I have the time to write ridiculously long blog posts such as this one.
It has been 15 years since I attended ATP, so keep in mind that a lot of things may (and probably have) changed since I went there.
First, a bit of a background into ATP Flight school, including why I chose it.
Note: I probably should have mentioned this when I first published this post, but I just wanted to make it clear that I in no way have any affiliation with ATP Flight School.
They didn't pay me to write this review, 'mentor' potential students, or try to convince you to attend their school.
All of the below thoughts are simply from my own personal perspective as a former student.
Jump To A Section
Living Accommodations / Rooming Situation at ATP
What's The Flying Like At ATP?
What Are The Instructors Like At ATP?
What's CFI School At ATP Like?
ATP Flight School Crashes (personal story here)
Final Thoughts / Recommendations
1. What is ATP?
ATP is short for Airline Transport Professionals, a private network of 50 flight schools located across the continental US.
If you've read AOPA magazine, visited a website like Airline Pilot Central, or did even the slightest amount of research into becoming a pilot, then you've probably heard of ATP.
I still get their advertisements on Facebook, and I graduated from their program over 10 years ago!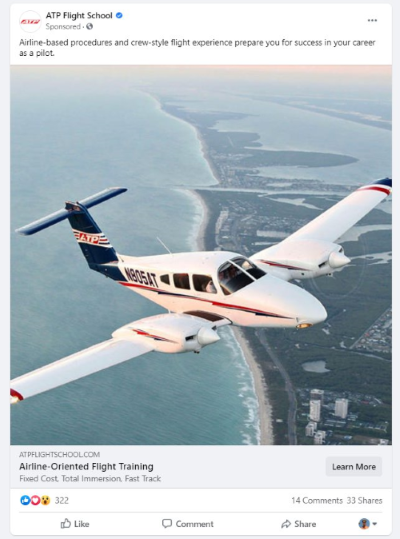 It was founded in 1984, and is one of the largest (if not the largest) flight training academies in the US.
It's headquartered in Jacksonville, FL, and according to Wikipedia it currently has a fleet of 171 Cessna 172-s, 150 Piper Archers, and 92 Piper Seminoles. [Ref: 1]
ATP conducts training for aviators at all levels of their career, including:
Private pilot
Instrument rating
Multi-Engine rating
Commercial rating
Certified Flight Instructor (CFI)
Certified Flight Instructor – Instrument (CFII)
Multi-Engine instructor (MEI)
One of the most enticing features of the school is their relationships with several regional and major airlines.
These relationships, which include airlines like Skywest Airlines, Mesa Airlines, and PSA Airlines, set students up for a potential future as an airline pilot with one of those companies.
Related Article – Biennial Flight Review (BFR) Explained
2. Why Did I Choose ATP Flight School?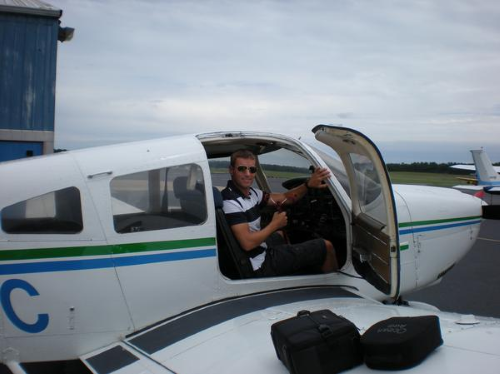 When I was contemplating becoming a pilot for a living, I was bouncing between a few schools:
ATP
My local flight school (Ocean Aire in Toms River, NJ)
American Flyers
Ocean Aire would have been way cheaper (like $25K – $30K for all my ratings) than ATP ($55K+), so that was part of the consideration.
On top of that, I knew the instructors and the area well, plus I would have the luxury of having rent covered (living with your parents does have some perks).
American Flyers, which like ATP has locations all across the US, just struck me the wrong way when I was doing my research.
I chose ATP flight school for a number of reasons, but my top 3 would probably be as follows:
I would get my ratings quickly
I'd (possibly) be able to pick up a job as a CFI after completion of training
I needed a break from the bleak winter NJ weather
'I would get my ratings quickly'
Make no mistake about it, ATP flight schools biggest selling point is the fact that you can go from "0 to Hero" in under 6 months.
They advertise this 'fact' everywhere…
Airline pilot forums, pilot magazines, Facebook, Google, etc.
'I'd (possibly) be able to pick up a job as a CFI after completion of training'
This was another selling point that stuck with me.
Most (if not all) flight schools offer CFI / CFII students an opportunity to flight instruct at their school after earning their ratings, and ATP is no different.
However, there's a huge difference between most mom and pop flight schools and ATP…
At smaller flight schools, your chances of getting a student looking to earn his or her multi-engine ratings are low, at best.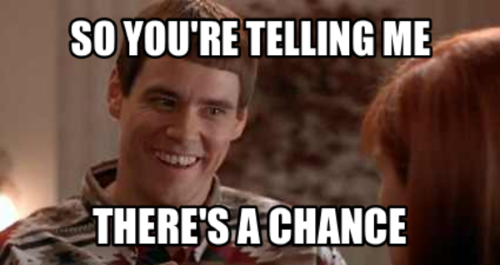 At ATP flight school, it's almost a guarantee that you'll have multi-engine students.
In fact, you'll likely have more multi-engine students than you will single-engine students.
The vast majority of those attending ATP will already have their private pilots license with a single-engine rating.
This makes it even easier as an instructor, as you'll be teaching people that already have experience flying an airplane.
'I needed a break from the bleak winter NJ weather'
Growing up in New Jersey has it's perks…You're within an hours drive of New York City, jersey shore beaches, and even the Poconos.
With that said, the winters in New Jersey just suck.
Sure, at first it's not too bad, and it's nice to have a change of season / scenery every once in awhile.
With that said, it gets old quick!
To top it all off, when I was doing my private pilots license, I can't tell you how many flights I had to cancel because of bad weather.
Nothing sounded better than escaping all of that with a nice 4 – 6 month trip to South Florida!
My Complete Experience At ATP
Before I get into my full review of ATP flight school, I want to give you a brief on how the process goes (or at least how it did in 2008):
As I mentioned, ATP offers a wide variety of training programs depending on where you're at in your aviation career.
It's an ala-carte menu that ranges from something as simple as a private pilots license, to the full gambit.
Since I was looking to make this a career, I decided to go with the 'Airline Career Pilot Program'.
I already had my private pilots license, so what this would entail was basically allowing me to earn every rating I would need to become qualified to fly as a commercial pilot and flight instructor (CFI).
These ratings included (in no particular order):
Multi-Engine rating
Instrument
Commercial Multi-Engine rating
Commercial Single-Engine
CFI Multi Engine
CFI Single Engine
CFII
In order to pay the $55,000 cost, I had to secure a student loan from Wells Fargo.
At that time, rates were actually fairly reasonable, and it didn't take long to get the funding.
To get into ATP flight school, I had to go to an 'interview' at one of their locations.
I chose the Daytona Beach location, as I was gunning to go to one of their locations in Florida. (more on this below)
My best friend and I flew down to Daytona Beach for a week (it was late January), and my 'interview' was conducted on a Tuesday.
I keep putting 'interview' in quotes, because it wasn't really an interview.
Rather, it seemed as though it was basically a sales pitch of why I should attend ATP over another flight school.
Sure, they asked me some questions that were flying related.
But the vast majority of this 'interview' was them explaining why ATP was the best.
In any event, I 'passed' this interview and was accepted into their flight training program.
Related Article – 5 Best Low Time Pilot Jobs With 250 – 500 Hours
How I Ended Up In Stuart
As I mentioned earlier, I was gunning for a location in Florida.
At the time, there were around 6 – 7 ATP locations in Florida.
I was originally shooting for either the Ft. Lauderdale location, or the Daytona Beach location.
There were 2 problems with this:
1. Daytona Beach…Pass!!
Everything I read about the Daytona Beach location just turned me off.
From complaints about the instructors, to complaints about the living situation in Daytona Beach, it started giving me second thoughts.
All my suspicions were confirmed when I visited the Daytona Beach location in person for my interview.
2. Why Not Ft. Lauderdale?
Unfortunately, there were no openings at the Ft. Lauderdale location.  Because this particular ATP flight school location is way smaller than many of the others, they only had a limited number of spots.
My admissions officer gave me a list of the other locations in Florida that were available at the time, and one of them included Stuart.
Up until that point, I'd actually never even heard of Stuart, FL.
After consulting a map, and checking out a few forum posts, I decided this was the location for me.
Living Accommodations / Rooming Situation at ATP Flight School
Fast forward to March 25, 2008, and I found myself checking into the Willoughby Cove apartments (now called Heritage Cove), about an 8 min. drive from Stuart airport.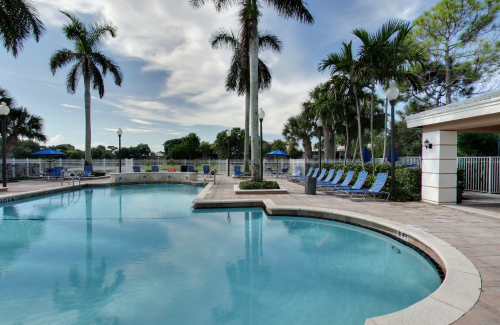 I met my roommates Kyle (who was also originally from NJ) and Luke (who was from Michigan), both of whom were approaching the end of their flight training.
The housing at ATP is basically setup like a college dorm, except, there's only like 3 – 4 units (apartments) since we were at a smallish location.
Each unit in Stuart had 3 bedrooms, and 2 full bathrooms.
The 'master bedroom' had their own 'master bathroom', and the other 2 bedrooms shared a bathroom.
In Stuart, 2 of the bedrooms were setup with 2 single beds, and 1 of the bedrooms (the smaller one, not the master) was setup with 1 single bed.
The assumption was that, if a girl checked in to flight training and ended up in our apartment, she would get the single bedroom (for obvious reasons).
In all, you can expect to have 2 – 4 other roommates for the duration of your training at ATP.
Fun Fact: One of my roommates ended up becoming a chief meteorologist for a small TV station in Wisconsin!
What's The Flying Like At ATP?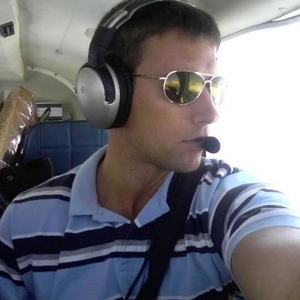 In general, there were 2 different types of flying done at ATP flight school:
Training For Your Rating, and
Cross-Country flying
Training For Your Rating
The training for your rating is exactly what it sounds like…every time you're in the airplane, you're receiving instruction from one of the CFI's.
They make the schedule for your flights, and pretty much handle everything.
Expect to spend a lot of time in the simulator before you actually jump into an actual airplane.
You'll quite literally do the entire flight that you're going to do in the simulator first.
Once your instructor is confident that you can perform the required maneuvers, you'll actually head out to the airplane for some real world flying.
This makes sense from both a practical standpoint (if you can't do the maneuvers in a simulator, you probably won't be able to do them in the airplane), and an economic standpoint (airplanes are expensive to fly!).
Be prepared to fly a lot!
From what I remember, I was flying as much as 4 – 5 times per week, with each flight being anywhere from 1.5 – 2 hours in duration.
In general, you'd get the weekends off.
With that said, it was still possible to be flying on the weekends depending on how the schedule played out.
Cross-Country Flying
The cross-country flying was a completely different animal.  This type of flying was conducted as a 'run up' to your commercial multi-engine checkride.
Since you need 250 hours of flight time to be qualified to take the commercial checkride, ATP flight school pairs you up with another student to 'build time'. [Ref: 2]
I happened to be partnered up with another guy from New Jersey, and we had a really good time.
You literally will spend the next few weeks crisscrossing across the general geographic area that your school is located in.
For example, since I was in Stuart, FL, most of our flights would start in Stuart, and we'd do like 3 – 4 legs per day.
A typical day of cross-countries would look like this:
1st leg: Stuart, FL (KSUA) to Jacksonville, FL (KCRG)
2nd leg: Jacksonville, FL (KCRG) to Raleigh-Durham Intl. Airport (KRDU)
3rd Leg: Raleigh-Durham Intl. Airport (KRDU) to Jacksonville, FL (KCRG)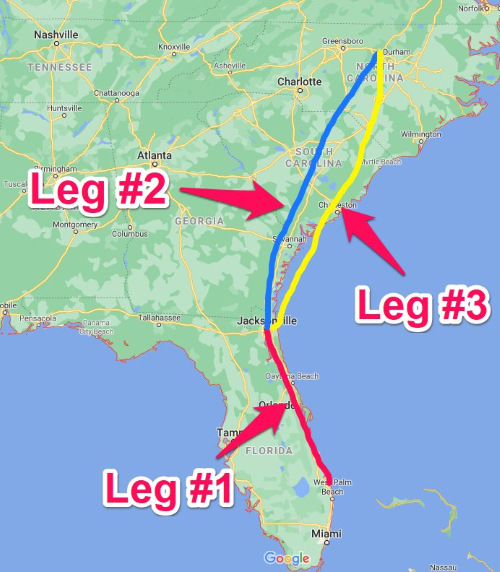 Then, we would spend the night in a hotel and do a totally different set of legs the next day.
Sometimes we'd end up back in Stuart at the end of the day, but the vast majority of the time we'd end up away from home (just like in the airlines).
Technically speaking, we were supposed to stay in one of the dorm rooms with students in whatever location we were in.
However, most of the time we'd end up at one of the apartments, only to find out that they didn't have any spare beds available.
The last thing my flight partner and I wanted to be doing after a long day of flying was spending the night on the floor or some dirty used couch.
Luckily, he was cool enough to agree to fork over the $ for a hotel room.
At the end of the training, we actually sent in our receipts from our hotel stays, completely expecting to not be reimbursed.
However, much to my surprise, several months after completing training I found a check in the mail from ATP flight school.
It turns out, they reimbursed me for every red cent in expenses. (my flight partner as well)
Other destinations we routinely flew to included:
Dothan, AL (KDHN)
Naples, FL (KAPF)
Ft. Lauderdale Executive (FXE)
Peachtree Dekalb, GA (KPDK)
Pensacola, FL (KPNS)
From what I can tell by the ATP flight school locations map, some of these locations (namely Naples and Pensacola) looks like they've closed.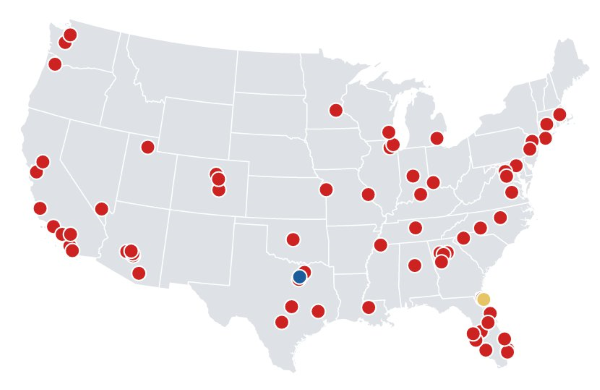 Although come to think of it, I don't think they ever had a location in Naples, we just flew there for training.
What Are The Instructors Like At ATP?
Like most other flight schools in my experience, this is all over the map.
Some instructors are great, and will go the extra mile to make sure you understand all the material and answer any questions you may have.
Others do the bare minimum, and that's putting it lightly.
Some instructors yell at their students for the slightest mistake, and some are extremely patient.
I actually almost got into a PHYSICAL fight with one of my instructors IN the actual airplane.
I won't get into the details, but ultimately I switched instructors.
The best way to determine which instructors are the 'good' ones and which are the ones you'll want to try and avoid is to talk to the students who were there before you.
For each rating, you'll generally be assigned a different instructor.
For example, the instructor that did my instrument and multi engine ratings was the same guy.
However, for my commercial and CFI ratings, I had 2 completely different instructors.
I'm not exactly sure how they choose your instructor, but I think they basically just rotated students based on who was coming in, and who was going out.
Sort of like on a first come, first serve basis.
One thing about some of the instructors at ATP that sort of annoyed me was their arrogance.
Here were guys (yes, they were all males) that quite literally just got their CFI / CFII certificates like 6 months prior to me getting there.
This means that, in essence, they were basically in my exact same shoes less than a year ago.
The way some of them acted, however, was like they were gods gift to the world of aviation.
A Chuck Yeager impressionist, if you will…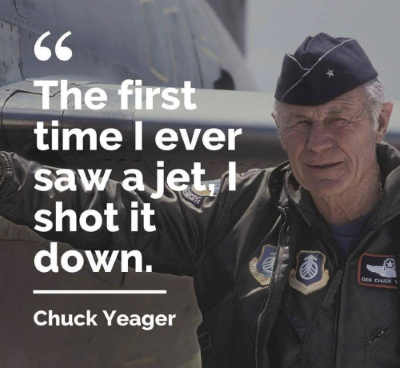 If you had a question about a Federal Air Regulation (FAR), or about something on an aeronautical chart, or whatever the case may be, often times they'd look at you like 'how dare you ask me that?!'.
Other times it was with a condescending attitude, as if you're a complete idiot for not knowing the answer to a particular question already.
Frankly, it was a bit annoying, but I learned to live with it.
Related Article – Instrument Proficiency Check (IPC): 4 Things You Need To Know
What Are The Designated Pilot Examiner's (DPE's) Like?
Frankly, there's not too many negative points I can think of when it came to the DPE's.
They were all very professional, and you could tell from the get-go that they were fair (albeit pretty intense in some cases).
For example, my first DPE for my multi-engine checkride was a former Air Force F-4 Phantom pilot that flew combat missions over Vietnam.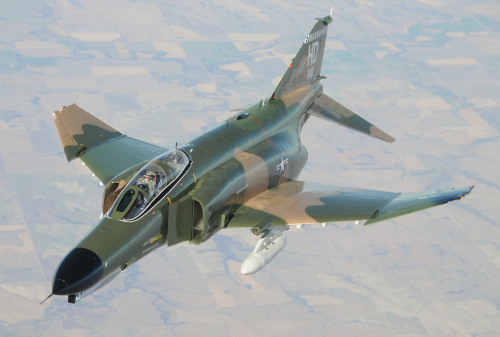 To say that I was anxious about this particular checkride would be an understatement.
We started off the checkride with the oral exam, which is basically a sit-down 'interview' if you will.
The examiner will ask you a bunch of questions related to the rating itself, and can include everything and anything.
For example, on this particular checkride, I remember the DPE asking about:
The aircrafts performance metrics (stall speed, max. speed, cruise speed, service ceiling, etc.)
Critical Engine – Which engine is critical and why (in the PA-44, it's the left engine in case you were wondering)
Emergency procedures (IE you just lost the critical engine, what are you going to do?)
He also asked me a range of other questions, ranging from weather to airfield operations, to pointing at a VFR chart and asking me about a variety of symbols.
At ATP, your DPE can vary for every checkride.
For me, it broke down like this:
Multi-Engine rating: DPE #1
Instrument rating: DPE #2
Commercial and CFI Single Engine ratings: DPE #3
Multi Engine Commercial and CFI ratings: DPE #4
Depending on the ATP flight school location you end up at, you could quite literally have the same DPE for every checkride you do.
Also, on one of my checkrides I literally did 2 different ratings back to back on the same day.
On that particular checkride, we started off with the single engine commercial checkride.
After successfully completing the required maneuvers, we landed at the DPE's home in Spruce Creek, FL.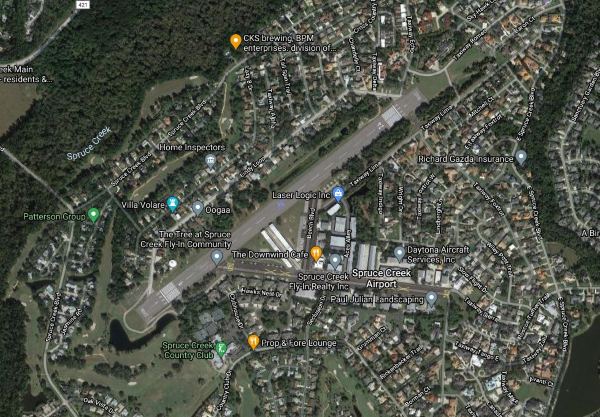 We literally taxied right up to his house, he filled out the paperwork stating that I successfully completed the Commercial Single engine checkride, and we hopped back in the airplane and did the Single Engine CFI checkride.
To say it was a long, rough day of flying is an understatement!
What's CFI School At ATP Like?
In my experience, CFI school at ATP flight school, by and large, wasn't very good quality training.
I've heard that they've completely overhauled it since I attended, but I can't confirm that.
As of 2020, ATP has 5 locations for their CFI academy.
They include:
Phoenix Gateway Airport (KIWA)
Centennial Airport (KAPA)
Arlington Municipal Airport (KGKY)
Gwinnett County Airport (KLZU)
Craig Airport (KCRG)
Because it was closest, I was sent to the Jacksonville location to do the CFI ground school.
There were about 10 other students in the course, and we had one ground instructor (a former first officer at a regional airline).
From what I recall, the school lasted 2 weeks, and was divided up into 2 blocks. The first block, which lasted a week, involved actual ground school instruction.
The 2nd block, which also lasted a week, basically involved self-study in the classroom.
I'm having a really hard time remembering everything that happened, but I do distinctly remember getting the feeling that they were trying to get students to quit training.
In fact, my roommate Luke did just that just a month prior to me attending ground school.
Come to think of it, I remember him being so fed up by the program that he ended up leaving before finishing his CFI ratings.
Let's just say, at the time the school was 'lacking' in many aspects.
For one, there isn't a ton of actual 'ground school'.  The classroom instruction that was given was sort of lacking in any detail, and it just all around seemed unstructured.
As I mentioned earlier, it sounds like they've cleaned up their act big time.
From their website, it appears that CFI academy is now 6 weeks, and is a much more involved program.
Spin Training!
The last thing I remember about CFI school was one of the most fun (if not terrifying) aspects of training….spin training.
You see, in order to receive your CFI ticket, you need to get several endorsements.
They include:
Endorsement for aeronautical knowledge
Endorsement for flight proficiency
Endorsement to certify completion of prerequisites for a practical test
Endorsement for spin training
Up until this point, I had never been in an actual spin.
Sure, I read the theory, understood what caused them, how to avoid them, and lastly the recovery procedure to get yourself out of one.
With that said, I had never actually been in a spin.
Like I mentioned above, being able to successfully demonstrate spin recovery procedures was necessary to receive your CFI ticket.
They brought all 10 of us out to the airfield and one by one took us up in a Cessna 152 to do it.
We'd take off to the southeast, and head about 10 miles to the east – southeast of the airfield (out over the ocean) up to around 7,500 ft.
There, the instructor would demonstrate a couple of spins himself to help walk you through the recovery procedure.
Then, he'd turn the controls over to you and, well, you'd put yourself in a spin and get yourself out of it!
For those of you that are unaware, it looks like this:
I'm not gonna lie, on the flight out to the training area I was pretty damn nervous!
With that said, I simply rehearsed the recovery procedure over and over in my head until it was time.
After the first couple spins, I was actually having fun!
We did a bunch of spins in both directions, and then headed back to the airport.  All in all it was great!
ATP Flight School Crashes (personal story here)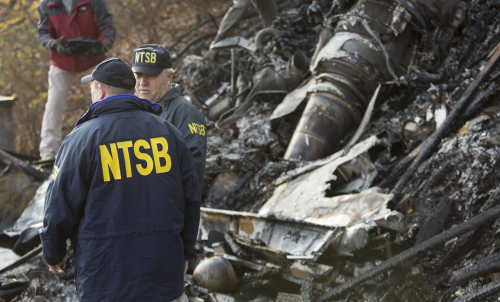 Like most other large flight schools, ATP has had it share of accidents and incidents.
As a matter of fact, I have a personal story to share about one of them.
In 2008, I was working as a flight instructor at a place called Naples Air Center.
I had just got home after a long day of flying, when I looked down at my ringing cell phone and saw that my old roommate Kyle was calling.
I answered my phone and that's when he told me…
My old instructor, who we called Mainerd (because he was from Maine), was involved in a mid-air collision with another airplane.
The accident happened on Saturday, December 6, 2008, and I can remember everything very vividly.
Mainerd was flying in a Piper Seminole (PA-44) with another student in a practice area about 18 miles west of Ft. Lauderdale Hollywood International Airport.
Meanwhile, another instructor and his student were in the same training area in a Cessna 172.
From the NTSB's official report [Ref: 3]:
"A Cessna and Piper were both on instructional flights, operating in a concentrated flight training area that is depicted on a sectional chart. There was no air-to-ground communication in the area, but there was an advisory frequency that was used by the flight schools in the area.

The Cessna's pilot reported that he was "…a Cessna 172 holding at FRDDY at 2000 feet." No other radio transmissions were heard from the Cessna, and there were no reports of any radio transmissions from the Piper. Radar information indicated that the Cessna was on a 210-degree course and was tracking at a speed of 86 knots.

The Piper was on a course of 160 degrees and was tracking at a speed of 126 knots. Both airplanes converged on the same position, and the collision occurred at about 2,000 feet above ground level. The reported weather about the time of the accident included clear skies and visibility of 10 miles."
My girlfriend at the time (now wife) and I traveled to his hometown in Maine for the funeral, and it was also attended by many of my friends from ATP.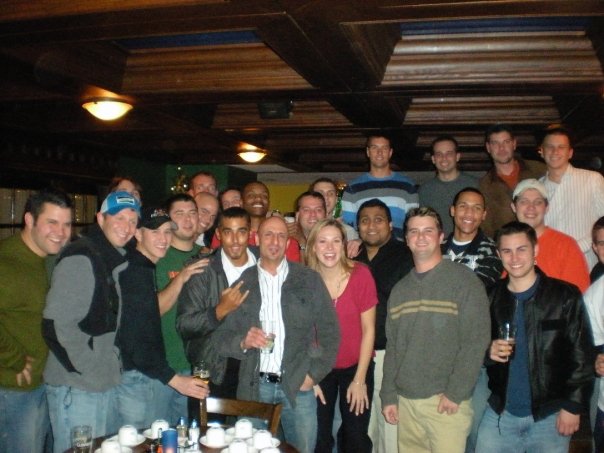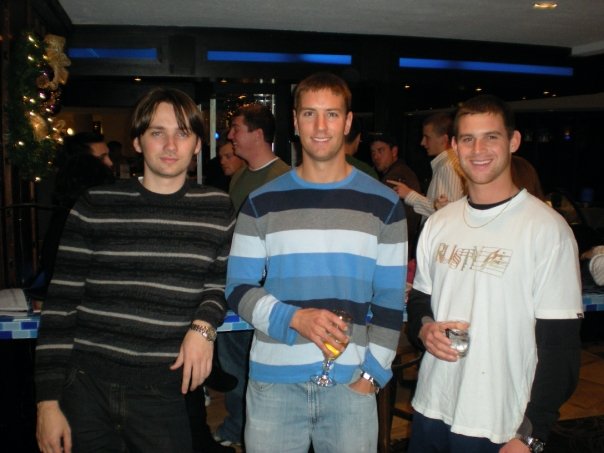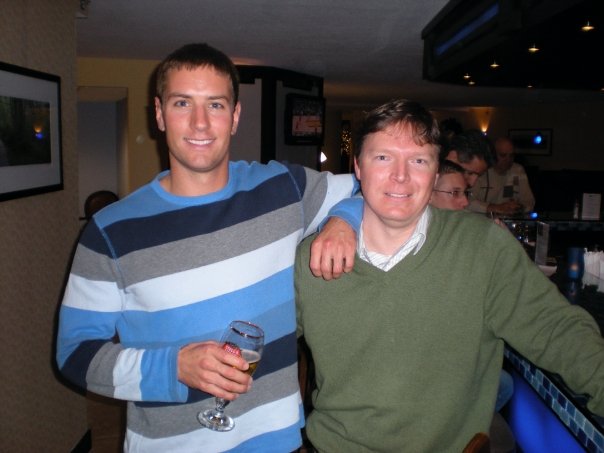 It was a pretty difficult thing, but if you're involved in aviation for any length of time, you'll likely experience the same thing.
To date, there have only been 2 other accidents that involved aircraft from ATP flight school:
March 24, 2014
Two students were on a cross country training flight when they experienced a vacuum pump failure in Instrument Meteorological Conditions (IMC).
The pilot flying subsequently lost control, and the aircraft suffered an in-flight breakup.
From the official NTSB final report [Ref: 4]:
"The National Transportation Safety Board determines the probable cause(s) of this accident to be:

An inflight failure of the airplane's only operating vacuum pump, which resulted in the loss of attitude information provided by vacuum-driven flight instruments. Also causal was the pilots' failure to maintain control of the airplane while operating in instrument flight rules (IFR) conditions, likely due to spatial disorientation, following the failure of the vacuum pump.

Contributing to the accident was the operator's decision to dispatch the airplane with a known inoperative vacuum pump into IFR conditions."
Unfortunately, both pilots were killed in the incident.
June 9, 2018
A Piper Seminole was on an approach to land at Daytona Beach airport in Florida when it experienced a microburst.
From the NTSB's preliminary report [Ref: 5]:
"The flight instructor stated they received a local instrument clearance and were on the RNAV RWY 16 approach when they encountered rain around the final approach fix. The rain increased in intensity as they continued the approach. Shortly after passing the final approach fix they received a low altitude alert from air traffic control. The flight instructor added full power and attempted to climb; however, the airplane continued to lose altitude while "still indicating 90 knots throughout descent and impact."
In my personal opinion, ATP Flight School goes to great lengths to make sure that their instructors and students are safe.
They have to in order to maintain their reputation.
It's no more (or less) dangerous to get your flight training done here than it is most other schools.
Wrapping up, here are my final thoughts on Airline Transport Professionals (ATP).
What I Liked About ATP
You can get your ratings really fast.
The training is fun.
The aircraft seem really well maintained. We never had an issue with an aircraft breaking down at all.
They have a ton of locations across the US. There's a good chance you live pretty close to one.
My roommates and classmates were awesome.
What I Did NOT Like About ATP
Ground school was virtually non-existent. You needed to be a 'self-starter' to succeed on that front.
Instructors were a toss up.  You'd either get a cool one or a douche. (Not limited to ATP flight school of course!)
The training is a fire hose of information.
You couldn't just take an airplane for the proverbial $200 hamburger. All flights were training flights, including your cross countries.
Final Thoughts / Recommendations
If you would have asked me back in 2008 once I completed ATP if I thought it was worth it, I would give you the same answer then as I'm about to give now.
Yes…I would definitely recommend it.
While the training was intense, it enabled me to get all my ratings as quickly as possible.
For some guys and gals, this isn't so easy to accomplish.
With that said, if you're motivated enough and study hard, there's no reason why you shouldn't succeed at ATP flight school.
One thing I wanted to add to this review was, should you decide to go to ATP flight school, you should 100% get your written tests done before you go.
I can't begin to describe how important this was to my success as a student at ATP.
While my roommates and other students were cramming for their written tests, and preparing for the checkrides, all I had to do was learn how to fly the plane.
This made life immeasurably easier for me than it was for them.
If you have any specific questions about ATP, feel free to leave them in the comments below!
References