In the 1930s, Bayerische Flugzeugwerke designed the The Messerschmidt Bf 108 Taifun, a single-engine, all-metal, sport and touring plane.
The four-seat craft was created to compete in the 4th Challenge International de Tourisme (1934).
Originally called the M 37, its first protoype flew in the spring of 1934. It had a 250 PS (247 hp, 184 kW) Hirth HM 8U 8.0 liter displacement, an air-cooled, inverted V8 engine, and a three-blade propeller.
The M 37 was developed as an improvement on the previous two-seater M 35.
The M 37 lost to several other planes in the competition, mostly because its all metal construction made it heavier than the other planes in a race where lightweight crafts had the advantage.
Related Article – Instrument Proficiency Check (IPC): 4 Things You Need To Know
However, many took notice of the plane's low fuel consumption, good handling, and takeoff and landing features.
The name Taifun (German for "typhoon") was bestowed on the plane by well-known pilot Elly Beinheim, and it soon caught on.
The company that produced the Taifun was first founded in 1926 as Bayerische Flugzeugwerke (Bavarian Aircraft Works), with Willy Messerschmidt as the technical director.
After various financial difficulties and disputes with the government, Messerschmidt was told he would never get any government contracts to build his own aircrafts, only orders to build previously designed planes.
At that point, after more company name changes (eventually they settled on Messerschmidt AG), he and Flugzeugwerke began seeking foreign orders, eventually leading to Erhard Milch, Germany's Deputy of Aviation at the time, to complain the company was putting foreign interests ahead of domestic ones.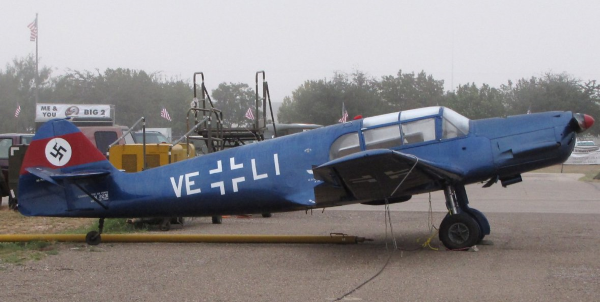 Messerschmidt responded by publicly stating the company only favored foreign contracts because they couldn't get any domestic ones, calling the Deputy out.
That led to Messerschmidt and Flugzeugwerke receiving the contract to make six planes for the 4th Challenge de Tourisme in 1934.
The M 37, or Bf 108, was a cantilever, one-wing monoplane that featured an enclosed two-seat cabin.
It also had tailskid landing gear with a retractable main unit.
There were bumps in the road while training for the competition, with one of the planes crashing.
The German team manager almost insisted on withdrawing from the contest at that point, but ultimately, four planes went on to compete.
Related Article – Airline Transport Pilot Certificate (ATP): 4 Things You Need To Know
Despite not winning, they drew considerable attention.
The plane went on to be used in several record flights.
In 1935,Elly Beinhorn made a return flight from Berlin to Constantinople in one day using a Bf 108A.
The same year, the Bf 108B was developed with a modified fin and rudder.
This version also lost the upper external tailplane bracing, and utilized a tail wheel in place of the skid. It used a 40 hp (179 kW) Argus As 10C engine.
The Bf 108 went on to win severalair races during the late 1930s, including the International Air Meets at Hoggar in January 1938, the Konigin-Astrid-Rennen, Belgium in July 1938 and Dinard in August 1938.
Early models were constructed at Augsburg in the BFW factory, but in 1938, the company moved to a new facility at Regensburg, where more than 500 planes were built.
In 1942, they moved to another new facility, SNCAN at Le Mureaux, near Paris. By the end of the war, 885 Bf 108s had been produced. Another 285 were constructed after the war in France.
The Luftwaffe (or German Air Force) adopted the Bf 108A for communication, supply, and target towing. The company also made significant sales of this model to Bulgaria, Hungary, Japan, Romania, Soviet Union, Switzerland and Yugoslavia.
The Bf 108A ad 108B planes were the most popular, but there were other versions either theorized or built.
The Messerschmitt Bf 108C was a proposed higher speed plane with a 400 hp (298 kW) Hirth HM 512 engine. It was never produced.
Messerschmitt Bf 208 was another tweaked version with retractable tricycle landing gear.
Two prototypes were built by SNCAN near Paris during the war, one of which was destroyed in an air raid. Large-scale production never happened.
The SNCAN (Nord) 1001 Pingouin I (Penguin) was the first in the Nord 1000 Series which began production in 1945.
Related Article – 12 Runway Markings and Signs Explained By An Actual Pilot
This three-seat version of the Bf 108 built by SNCAN (Nord) in Les Mureaux near Paris swapped the standard Argus engine with the 233 hp (174 kW) Renault 6Q-11 engine.
The SNCAN (Nord) 1002 Pingouin II (Penguin) was close to the SNCAN (Nord) 1001 Pingouin, but utilized a Renault 6Q-10 engine of similar power.
This model also offered four-seat accommodation.
Around 250 Pingouin Is and IIs were manufactured, mostly going to the French Armed Services who used them for liasion and communication.
Two prototypes of the SNCAN (Nord) 1100 Noralpha were made for the Germans in 1943-44.
These used retractable tricycle landing.
One was lost in the war, but one was captured by the French who renamed it the "sole Nord 1100 Noralpha."
The SNCAN (Nord) 1101 Ramier I (Woodpidgeon) was based on France's single captured Me 208 (Nord 1100 Noralpha).
Using it as a model, the country's Societé Nationale de Constructions Aeronautiques du Nord (SNCAN) manufactured post-war the Nord 1101 Ramier I with a Renault 6Q-10 engine.
The SNCAN (Nord) 1102 Ramier II (Woodpidgeon) was close to the Nord 100 Noralpha, but featured a Renault 6Q-11 engine.
About 200 Nord 1100 series aircraft were produced for the French Armed Services altogether.
Only one SNCAN (Nord) N1104 Noralpha was made.
This single aircraft was used to flight test a 240 hp (179 kW) Potez 6Dba engine.
Related Article – 14 Taxiway Markings, Signs, and Lights Explained By An Actual Pilot
The SNCAN (Nord) N1110 Nord-Astazou was created when two Nord 1101 Ramier Is were converted into one craft.
It was used for flight testing with the Turboméca Astazou turboshaft engine.